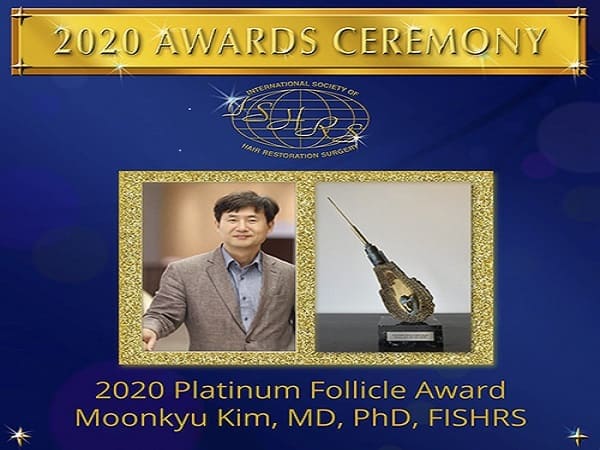 Professor Moon-kyu Kim of Hair Transplantation Center won the Platinum Hair Follicle Award from ISHRS
Prof. Moon-kyu Kim of the Hair Transplantation Center at Kyungpook National University Hospital won the Platinum Follicle Award from the International Society of Hair Restoration Surgery(ISHRS), 2020. The International Society of Hair Restoration Surgery is the largest and most prestigious academic society related to hair transplantation. It has been holding academic conferences all over the world every year, and this year marks its 28th year.
This year, due to the coronavirus outbreak, the conference was held online from October 17 to 25, and at the awards ceremony held on the last day of the contest, he won the Platinum Follicle Award, the highest honor of the society.Professor Kim has been conducting research and treatment on hair over the past 30 years as a hair transplantation researcher and as a hair transplantation doctor. In relation to basic research on hair, many research papers have been published in high-ranking magazines. In order to find the gene that causes male pattern hair loss, he developed a gene chip for hair research to identify genes that cause male pattern hair loss and revealed the process of signal transmission.
In addition, the award was awarded in recognition of steady research presentation of culturing hair follicle stem cells and forming new hair follicles by using cultured hair follicle stem cell.
This award is also very meaningful in that his mentor, Professor Kim Jung-chul was the first to win the award in 1994 and after 26 years since then, the Kyungpook National University Hospital's Hair Transplantation Center won the award. This is very meaningful in that the center has been recognized as a world class.
《毛发移植中心金汶奎教授,国际毛发移植学会白金毛囊奖获奖者》
庆北大学医院毛发移植中心金汶奎教授于2020年获得了国际毛发移植学会(ISHRS)白金毛囊奖。
作为毛发移植最大、最负盛名的学会,国际毛发移植学会每年都在世界各地举办学术会议,今年已是第28届。
今年,由于新冠肺炎危机,会议于10月17日至25日在网上举行。在比赛最后一天举行的颁奖典礼上,他被授予了学会最高荣誉-白金毛囊奖。
在过去的30年中,金教授作为毛发研究员和毛发移植医生,一直从事头发相关的研究和治疗。关于毛发的基础研究,在相关高级杂志上已经发表了许多研究论文,为了找到引起男性型脱发的基因,直接制造了用于头发研究的基因芯片,以鉴定引起男性型脱发的基因并揭示了信号传递过程。
此外,该奖项的颁发是为毛囊克隆研究对不断展示培养毛囊干细胞和使用该细胞形成新毛囊的研究成果的认可。
该奖项的意义也很重要,因为这是继续其导师金政澈教授于1994年在庆北国立大学医院的毛发移植中心获得该奖项后26年内首次获得了该奖项,该中心被公认为世界一流。